San Francisco Courthouse Weddings: The Ultimate Guide | San Francisco City Hall Wedding Photography
San Francisco Courthouse Weddings: The Ultimate Guide
When you want a courthouse wedding in San Francisco, there is only one place to do it: The City Hall. This type of ceremony has been called both civil and public weddings.
San Francisco City Hall is the only place to get married if you want a civil ceremony. It's also called a public wedding, which means that all of your friends and family can attend!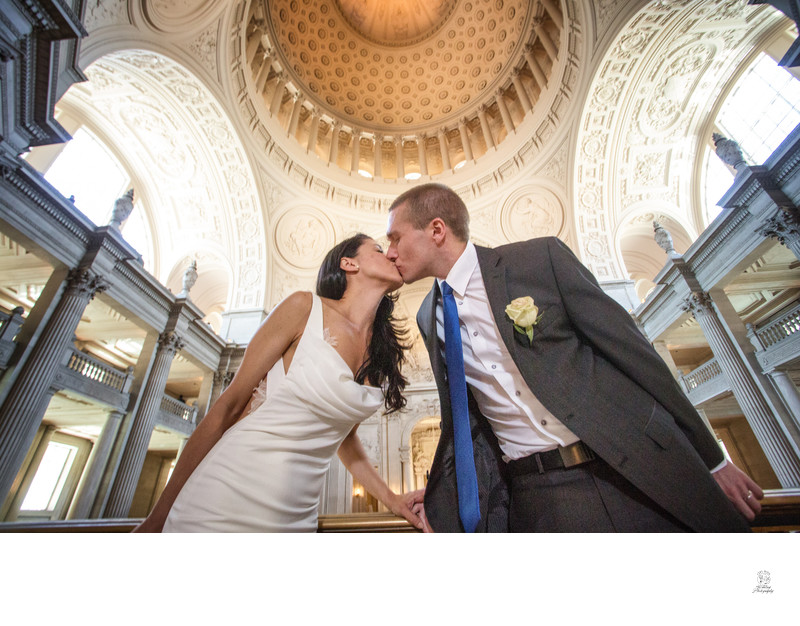 You can get married at the City Hall for just $98! Make sure you book your appointment before 90 days because they're going fast. You'll need to bring along a valid ID and wedding license, but that's it - no other requirements or restrictions on when it has been done."
Who Gets Married at City Hall in San Francisco?
Well, that's up to you! In our experience couples who choose a courthouse wedding do so for one of several reasons or combinations.
They're generally private people and don't want an elaborate affair with many guests.
They're planning a destination wedding and want to get the legalities out of the way ahead of time.
They've been married before and don't feel the need for all of the usual wedding trimmings.
They simply want to share with their closest loved ones.
These are just a few examples, but ultimately it's your day and you can do whatever you want! Keep in mind that City Hall is a public building so if you're planning on having your ceremony inside, expect curious onlookers. But that can also be part of the fun! Just remember to keep your cool, go with the flow, and most importantly, enjoy yourselves!
San Francisco Civil Wedding Ceremony
How to Plan a Wedding Step by Step
The wedding day is one of the most important days in any couple's life, which means that it deserves careful planning. The newlyweds have to be sure this will turn out exactly as they imagine for their perfect event!
1. Set a Wedding Budget
It may not be the most pleasurable part of preparing your budget, but it's a necessary procedure that must be completed before anything else can. Once you've done this step and established a firm limit for how much money is available to plan out what events will require funding as well as any other associated expenses such as food or decorations, everything else becomes much easier.
2. Photographer
City Hall ceremonies are booked in a 90-day window, so if you want your wedding pictures taken at San Francisco's City Hall then make sure to contact an experienced photographer soon. We're used to being contacted mere weeks ahead of time because our schedule books rather quickly!
3. Start Your Guest List
While you don't have to have a final guest list until a bit later, when thinking about how to plan a wedding step by step, coming up with an estimated guest count early on is important
4. Narrow Down the Dates
Taking into account work schedules, holidays, family conflicts, etc., and narrow things down to a few choice dates. Having some potential wedding dates in mind will be very helpful during the venue selection process.
What Day and Time are Best for a Courthouse Wedding?
We've met a lot of people who were so happy with their choice of an engagement ring and wedding band (and again - whoever sets the time or date will do just fine). Once it's finally done--the excitement takes over.
There are no one-size fits all answers when it comes to deciding on your perfect marriage date. There are many factors such as the time of day and desired photographer that should be considered before making this important decision with months or even years ahead for planning!
A good start time is 3:30 p.m. Schedule about 30 minutes for a nicely paced wedding ceremony, that's the ideal ceremony length.
How Should I Plan a Civil Ceremony and Marriage License in San Francisco?
Go to the County Clerk's website 90 days before your event if you have not already done so. You must schedule both your marriage license appointment and ceremony appointment. These are two separate bookings. If you live in or near San Francisco, we recommend obtaining your license ahead of time. It must be obtained within 90 days of the ceremony, so don't wait too long!
When you arrive at the County Clerk's Office, you will be asked to present valid photo identification for both parties. The application process takes about 30 minutes. You will then be given a civil ceremony appointment time and provided with information about how to obtain your marriage license presented at the time of your marriage license reservation if it ended within the past 90 days of your marriage license reservation date.
Marriage Services: General Information
On The Big Day of Your Ceremony
You should plan to be in the city hall building early. The judge won't wait for you! This place is an incredible spot that tourists flock to, and there's a reason they do - it has everything going on inside of this one location: marriage licenses, divorce courts...you name it; anything legal happens here first before anywhere else.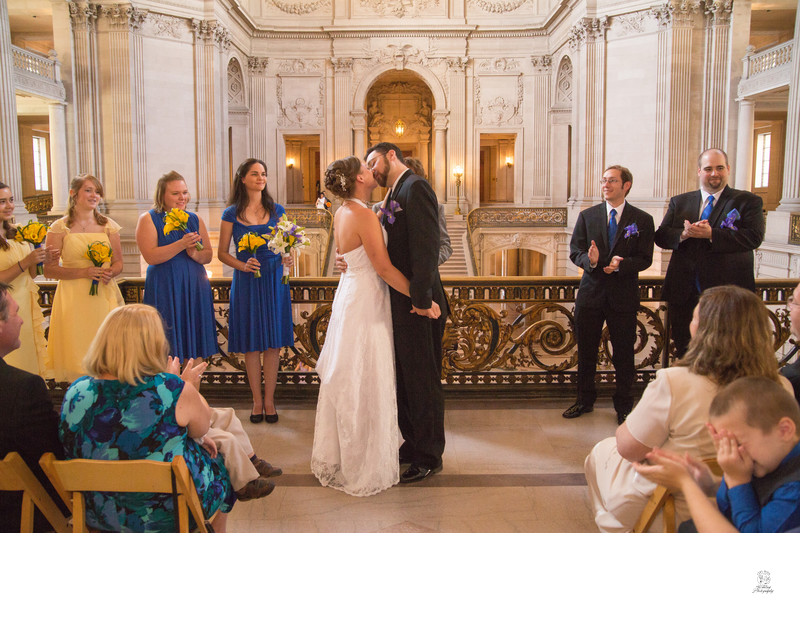 Are You Looking for an Award-Winning Wedding Photographer You Can Trust?
The team at San Francisco City Hall Wedding Photography
 are specialists in capturing the beauty of your wedding day in the magnificent surroundings of City Hall. We serve both local and destination wedding clients from all over the world. Photography packages are available for just Ceremony coverage or all-day premium photo tours with transportation included! No matter what package you select, you will get absolutely stunning photographs that exceed your wildest dreams. Contact us today!