How to Get Married at San Francisco City Hall | San Francisco Wedding Photography
Complete Updated Guide to Getting Married at San Francisco City Hall
Need to find out how you can get married at one of the most iconic city halls in all world? This is everything that will help. We've photographed almost 1,000 SF City Hall weddings over a decade, so trust us - we know what we are talking about!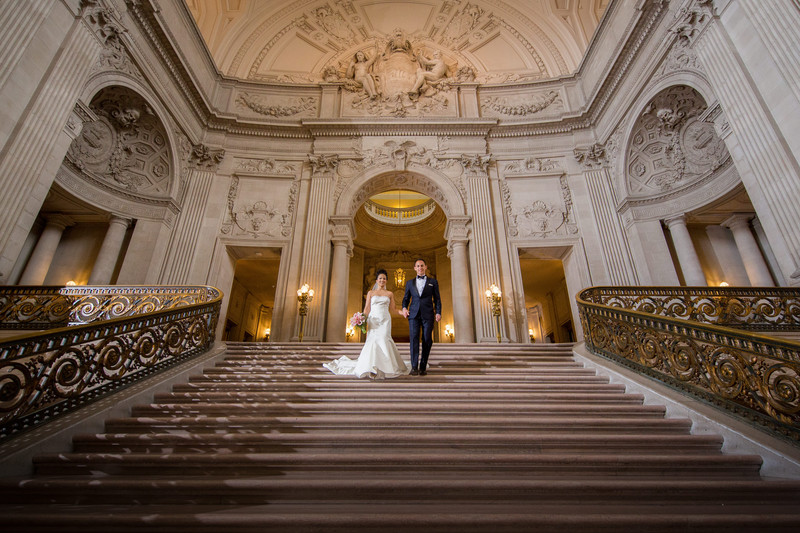 Step One: Get Your Marriage License
The City of San Francisco has an online form to make appointments with their county clerk. You must bring valid identification for both parties involved in order to secure this meeting place and time slot, which is located at City Hall - Room 168.
You can find all the information you need about how long it will take as well by clicking here!
Here's what you need to bring:
Valid, authentic, legal photo identification for each person.

A completed public or confidential marriage application.

If either/both parties were previously married or a State Registered Domestic Partner (SRDP), a certified copy of divorce, annulment, termination, or death record must be presented at the time of your marriage license reservation if it ended within the past 90 days of your marriage license reservation date.
Cost: $116.00 as of July 11, 2022
The fee for a marriage license at San Francisco City Hall is $116. You'll see the current rate while making your appointment, which must be 30 minutes before start time or else you may have a problem!
There are appointments available Monday through Friday from 8:15 am - 3:30 pm and they're first come/first serve so grab one while you can because these time slots don't last long :)
Step Two: Public Civil Ceremony Reservation
You can make a reservation for your ceremony at the County Clerk's office. You will need to show up ten minutes before it begins and check in with an information desk worker who may ask you some questions about yourself, but most importantly- bring along two valid forms of photo ID!
You can make a reservation at the Country Clerk's office by clicking this link:
To ensure your wedding day is as perfect and special for you both, we ask that all couples come prepared with the following:
Valid, authentic, legal photo identification for each person

A valid, unexpired, marriage license issued by a California County.

You may bring up to 6 guests, including a photographer, children, witnesses, etc.

No witness is required if presenting a confidential marriage license.
Reservation Cost: $98
The cost of a wedding ceremony at San Francisco City Hall is low when compared to other venues in the area. It currently sits around $95 for public appointments, which you can book up until 90 days before your big day! You'll need an official copy from either your county recorder's office or the state licenses department.
One thing that should be top on every bride's list? Getting a certified copy of her marriage certificate! This will ensure she has proof and documentation before any big event happens- especially since most states only provide this service ten business days after receiving it from someone who solemnized the union in order to protect against fraud or error (that means we'll need an extra couple days). Same-day and expedited services for certified copies are not available.
How to obtain copies of your Marriage License
Photography considerations forRotunda Weddings: Rotunda weddings are among the best deal anywhere for wedding photography. The location is small and intimate and cuts off some public viewing from the open interior of City Hall. If guests are positioned at the opening to the interior, Rotunda wedding photos often have fewer strangers in the background than the $1,000 4th Floor and Mayor's Balcony weddings! The main downside is the limit of attendees to 6 people including the photographer.
In practice, the officiants actually enforce the rules in an ad hoc way ( or not ) which can mean that some family members need to stand outside the Rotunda or may have to go to the 3rd floor to view the ceremony looking down from a balcony. In some cases, officiants get very angry when a couple pushes the rules and brings over a dozen family and friends. Rotunda Ceremonies are very short (4-5 minutes) and require rapid shooting and movement of the photographer to get more than a few different angles.
During the Winter months, the Rotunda is dimly lit. But times of the year the light coming from a window above (3 floors up) does not illuminate the couple's faces very well. Some photographers try using very bright lenses or on-camera flash, but my experience is that the photos come out very flat or look flashy like an old-style Instamatic. Just like the Mayor's balcony, the only way to properly light a Rotunda wedding is using a professional off-camera flash.
Step Three: Private Ceremony Options
WEEKDAYS
If you want nuptials with fewer guests and greater privacy, during the week at City Hall There are several different options available:
Mayor's Balcony & Fourth Floor Galleries(North & South Light Courts) : One-Hour Wedding Packages:
Cost: $1,000
With this package, you'll have exclusive use of one hour on either the Mayor's balcony or a Fourth-floor gallery for up to 100 guests. You can choose your time period from Monday through Friday between 9 am - 3 pm with the earliest start at 11:30 am and the latest finish by 1 pm.
The cost is $1,000 which includes chairs as well as all-acoustic music approved beforehand; any food & beverage service would be extra so please let us know if there are specific dietary requirements.
Photography Considerations: The master architect Arhtur Brown Jr.(1874 -1957), who designed City Hall's Architecture created a beautiful open internal space for public events and political communication centered around the Mayor's Balcony. The huge open space creates a cross-building line of sight that extends from the lower floors(Mayor's Balcony) through the 4th Floor. What this means for weekday photography wedding photography, virtually all the photos from these $1,000 premium packages will have people in the background. This includes family and friend formal photos taken after the wedding. San Francisco City Hall Wedding Photography created the two-hour standard package(Link) in order to account for the hundreds of photos that could potentially have distracting background clutter of other wedding couples, their guests photographers, and their lighstands and softboxes. All SFCHWP standard packages include the removal of these distracting elements in ALL delivered photos.
Lighting on the Mayor's Balcony. In general, the Mayor's Balcony is quite dark and requires professional lighting for photos to look like what the eye sees. The light source is four floors up and can vary from dark to very dark on Winter days. Even professional lenses which maximize the light will need photos boosted by camera sensitivity (ISO), resulting in grainy images often with a flat look unprofessional look. With properly positioned lighting, Mayor's Balcony wedding photos can be the most impactful and dramatic of any location at City Hall.
Lighting on the 4th Floor Galleries. Since the 4th Floor is the source of most of the ambient light at City Hall, the 4th Floor has by far the lightest and arguably the best light of any City Hall wedding ceremony location. As described above the open interior of City Hall leads to almost a constant presence of other couples and photographers on the other side and in basically every framing of photographs of weekday City Hall Weddings. The two huge windows on both sides of the 4th floor illuminate weddings with sufficient light that nice photos can often be taken with even consumer cameras and phones.
Depending on the weather, the light can be very dull and lifeless on stormy Winter days and even on in the summer when San Francisco is in a "June Gloom" cycle which can extend into October. In these conditions, an addition of a high-angle off-camera flash, can add life to these images and is highly recommended.
Another consideration is that when the sun is strong and the skies blue the opposite window can overwhelm and overly backlight the Bride and Groom during the Ceremony. The backlight is often so overwhelming, that photos display the large window in an unsightly and distracting pure white, while the light can even discolor the hair of the couple and people in group photos with a blue tinge and loss of contrast and a distinct loss of sharpness. This can be compensated by using a smaller aperture (less light) on lenses and relighting the subjects with off-camera lighting.
Check the event calendar for Reservation
EVENINGS & WEEKENDS
City Hall is open to the public Monday through Friday from 8:00 am to 6:00 pm, though areas can be privatized for special event use during those hours. Due to regularly scheduled meetings of the Board of Supervisors, evening weddings are not possible on Tuesdays.
Scheduling of Weekend weddings:
North Light Court load-in begins at 2:00 pm. Load-in to all other areas begins at 4:00 pm. Guest event must conclude by 12:00 midnight. Load-out must finish by 2:00 am.
Two-Hour Weekend Wedding Package:
Cost: $5,000
This package is offered on Saturdays only, with the earliest ceremony beginning at 9:00 am and the latest beginning at 12:00 noon
The $5,000 two-hour wedding package offers the occasion of exchanging vows on Grand Staircase in a delightful outdoor setting surrounded by family and friends. This exclusive offer includes up to 200 guests including the Natural Wood folding chairs which are placed neatly inside prior to load-out times; it also comes complete with insurance coverage for you as well!
We know that more than 200 people can be a lot to handle, which is City Hall offers additional service for those with large groups. The $7 per guest charge includes all of the necessary equipment and insurance.
Get more information about the two-hours wedding package
Photography Considerations: The two-hour weekend package can be a great choice for an intimate Wedding Ceremony experience at City Hall without the noise and public distractions of the weekdays. Keep in mind, as the guest count rises the time of the Ceremony plus family & group photos takes time away from the strict 2-hour limit of the package. A skilled photographer should be able to take a group photo on average, every 3 to 4 minutes.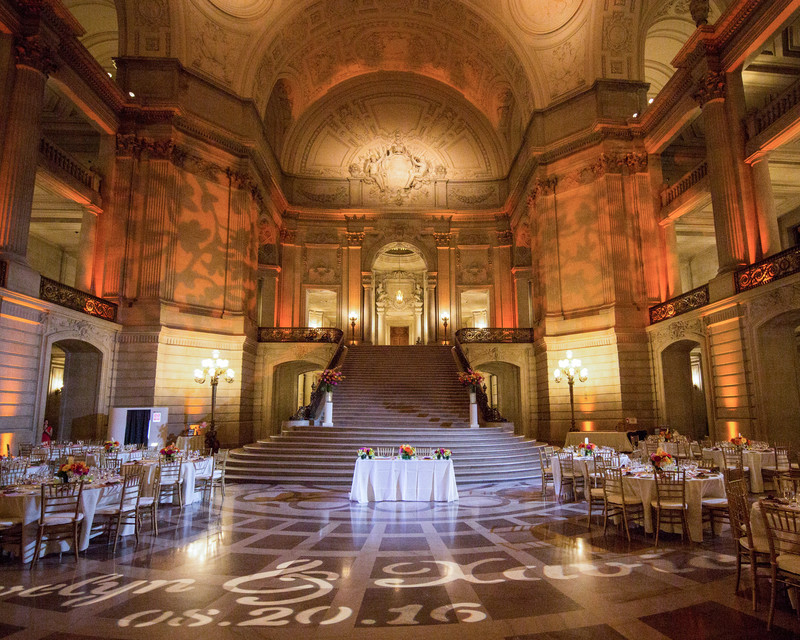 Here is a list of classic photos taken at weddings (Not including ad hoc group photos with friends ):
Couple with all parents

Couple with both of their immediate families

Couple with siblings and siblings' spouses
Partner One
Partner One with their parents (or stepparents)

Partner One with each parent separately (if divorced)

Partner One with their immediate family

Partner One with their grandparents

Partner One's parents (stepparents) alone together

Partner One's grandparents alone together

Partner One with their sibling(s)
Partner Two
Partner Two with their parents (or stepparents)

Partner Two with each parent separately (if divorced)

Partner Two with their immediate family

Partner Two with their grandparents

Partner Two's parents (stepparents) alone together

Partner Two's grandparents alone together

Partner Two with their sibling(s)
This list could would take at least 45 minutes to photograph. When one adds even a very short ceremony, it is obvious that group Ceremony + Family Group Photos + Friends can easily take a full hour. This leaves only an hour for couple photos. In a huge space like CIty Hall an hour goes by very quickly. This is all to say that it is not unusual for Weekday couples to get more variety of photos than Weekend couples who choose the 2 hr package. Our experience is that any weddings with over 50 guests, the group photos and dynamics (random celebratory conversations and ad hoc requests for additional photos)starts to take more time than what it appears on paper.
Full Evening Weekend Wedding Package:
Cost: $10,000 or more for more than 499 guests.
Cost vary depending how many people are attending for more detailed pricing information for weddings with over 499 guests refer to the SF City Hall Events Site.
The Evening weekend package offers privacy and access to all of CIty Hall's best locations for a price. With proper scheduling the couple can do everything: couple wedding photography throughout the building , family and group photos and reception photography (Speeches, Bouquet Toss, Candids, Dancing etc.).
Photography Considerations: Generally the couple will have a first look, and couple wedding photos early in the schedule before guests arrive. Since access begins at 2:00 PM (North Light Court) and general access to the rest of the building at 4:00PM photos besides those on the 4th Floor will be in the late afternoon and rely on artificial lighting even more than normal. Ceremony lighting on the Grand Staircase usually requires two off camera flashes positioned on the 2nd floor to light up the entire interior of City Hall. These two lights can also be used to light reception tables and dancing on the 1st floor. It can't be emphasized enough that professional lighting for Evening weekend events at City Hall is essential for almost all photos.
Summary
City Hall is the perfect venue for your wedding. You can either reserve a space during public hours or book it all together, depending on what you want! The cost will vary depending upon how many people are attending and when they're arriving to celebrate with their new family members (weekday weddings tend to be more expensive).
A large private party hosted by City hall offers exclusive use of areas such as North
Light Court.For more information, go to the SF City Hall Events website for details:
License and Certificates Guidelines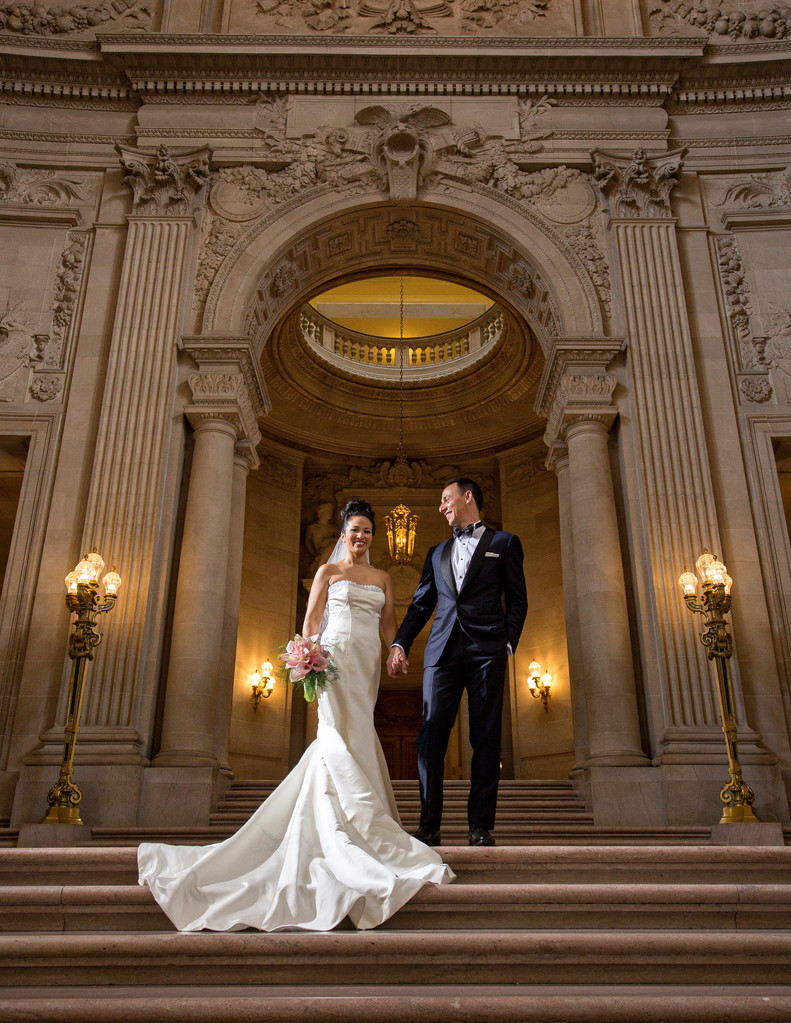 Are You Looking for an Award-Winning Wedding Photographer You Can Trust?
The team at San Francisco City Hall Wedding Photography
 are specialists in capturing the beauty of your wedding day in the magnificent surroundings of City Hall. We serve both local and destination wedding clients from all over the world. Photography packages are available for just Ceremony coverage or all-day premium photo tours with transportation included! No matter what package you select, you will get absolutely stunning photographs that exceed your wildest dreams. Contact us today!